The Place to Shop for Wood Look Tile in St. Paul, AB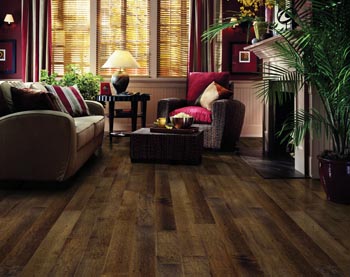 Wood flooring is one of the most popular choices for homeowners who want to transform their rooms. It offers natural beauty, long-lasting strength, and increased property value. However, wood isn't the best choice for every room. Due to its absorbency, wood swells when exposed to moisture. This swelling eventually creates gaps between planks that undermine the floor's appearance and structural integrity.
Fortunately, there's a way to get the beauty, strength, and value of hardwood without the moisture concerns: tile. For wood look tile in St. Paul, AB, there's no better place to shop than Ideal Carpets & Interiors, Ltd. We sell and install a diverse selection of porcelain and ceramic surfaces specially designed to mimic the appearance and texture of genuine wood. Visit our showroom today to see these products in person, and you'll be surprised at how difficult it is to distinguish these tile planks from actual wood planks.
Why Tile?
Porcelain and ceramic flooring offer natural water resistance, making them a great choice for wet areas like kitchen, bathrooms, and so on. Furthermore, our wood plank porcelain tile and ceramic tile products are designed using durable materials, so they withstand daily wear and tear with ease. It's difficult to scratch tile. Although a tile may crack if you drop something heavy on it, all you have to do is replace the one broken tile — there's no need to replace all your flooring.
Tile is also easy to clean. To keep your tile flooring ready for company, all you need to do is routinely sweep and mop. With a little additional maintenance such as grout cleaning, your wood plank ceramic tile or porcelain tile floor will look like new even decades after installation. In fact, a tile floor can continue to add value to a property for generations. To learn more about the advantages of choosing tile, talk to our sales associates today.
Explore the Endless Design Options
Thanks to modern manufacturing innovations, tile can be made to resemble any wood species. Do you like rich, dark hardwoods like walnut? Are light, welcoming species such as maple more your style? No matter what you prefer, there's a porcelain or ceramic tile product for you.
Some shoppers know exactly what they want before they ever step foot in our store. Others aren't sure what kind of flooring would look best with their interior design. We're here to help your home look its best, so feel free ask our staff any questions about flooring design or style. Our team members are happy to make recommendations based on your stylistic preferences, practical needs, and price range.

Contact us to learn more about our porcelain and ceramic wood flooring alternatives. We proudly serve clients from throughout St. Paul, Bonnyville, Fork Lake, Lafond, and Elk Point, Alberta, as well as the neighboring communities.