Laminate Flooring in St. Paul, AB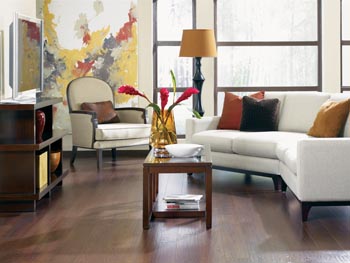 Update your space from wall to wall by letting us install lovely, livable laminate. You'll find whatever you want at our flooring store. We carry a wide variety, sizes, and colors of laminate flooring. Our goal is to give you want – stylish floors that showcase your unique sense of style. After all, you don't want floors that look just like your neighbor's.
For laminate flooring that truly cater to your preferences, you can't go wrong when you browse our showroom. Whether you want laminate that looks like hardwood or natural stone, you are sure to locate the perfect product right here. Because we are part of a large flooring conglomerate throughout Canada and the United States, we have access to thousands of products including luxury vinyl flooring options. So, if you can't find what works for you at our store, we can get it for you.


Reasonable Laminate Flooring Prices: $100 Off
Free consultations, free estimates, and $100 off your purchase. There are so many reasons to shop for flooring at our showroom. For one thing, our laminate flooring prices are hard to beat. In addition, we offer excellent financing options. You'll find that we never compromise on quality. From economical options to high-end laminate floors, we have laminate floors that cater to every price point. We carry the most recognized flooring brands in the industry, such as:
Torlys
Quickstep
Floorcraft
Kronotex
Grandeur
We also offer 12-18 months financing.
Stylish & Soft Laminate Cork Flooring
Innovations in the industry have transformed the way we look at laminate. No longer is laminate anything like it was long ago. For a casual yet classy flooring solution, consider laminate cork flooring. This new, unique, and abrasion-proof surface is probably the most innovative new developments in the flooring industry. Soft underfoot and distinctively stunning, this flooring product works well in many homes. Some of the other benefits of cork flooring include:
Fast & Easy Installation
Durable
Quiet
Ecofriendly
Hygienic
Comfortable


Lush Laminate Leather Flooring
One of the most unique aspects of laminate flooring is its ability to mimic other types of floors – from hardwood and ceramic to stone and porcelain. Due to the innovative manufacturing process, this type of flooring is made to look like any surface. However, it is incredibly durable. It doesn't break; it resists scratches; and it's not susceptible to moisture damage.
We even carry laminate leather flooring that creates an exclusive look in your living areas. By choosing the right colors and styles, your new floors make your home interior the very epitome of style. Give your home flair, and dare to install laminate leather floors. For more information, speak with our sales associate about the benefits of this unique product.


Laminate Flooring Installation Experts
Install your floor promptly and correctly by depending on our skilled laminate flooring installation specialists. By doing so, you ensure your new floor lasts for many years. From removing your old flooring and preparing the surface to installing your new laminate, we perform accurate services. Because we have installed laminate floors for many years, we use know the most efficient ways to ensure a job well done.



Contact us for assistance in selecting a laminate floor product that is right for your project. We proudly serve customers throughout St. Paul, Bonnyville, Fork Lake, Lafond, and Elk Point, Alberta.